As a trusted and go-to resource for 16,000+ global professionals working in the field of regenerative medicine, RegMedNet provides trailblazing digital marketing solutions that help you reach your target audience.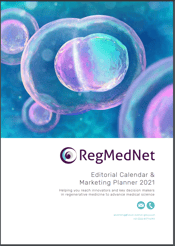 We take the time to understand what your needs are, who you are looking to communicate with and why, so we can make sure we offer you the correct services to guarantee you accomplish your goals. We have an experienced in-house editorial, design and customer relations team to support you every step of the way and ensure the optimal message is delivered.
We want to work in collaboration with you, helping us to provide the regenerative medicine community with the information they need to help them do their job better.
Want to learn more about promotion on RegMedNet? Complete the short form to request the 2021 media pack or contact our Senior Business Development Manager, Amy Bamford directly at a.bamford@future-science-group.com.
Complete the form below to request the RegMedNet 2021 media pack.