RegMedNet In Focus – cell cryopreservation and cold chain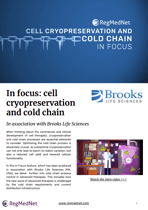 Download highlights from our latest In Focus feature when you complete the form below.
When thinking about the commercial and clinical development of cell therapies, cryopreservation and cold chain processes are essential elements to consider. Optimizing the cold chain process is absolutely crucial, as suboptimal cryopreservation can not only lead to batch-to-batch variation, but also a reduced cell yield and lowered cellular functionality.
In this In Focus feature, which has been produced in association with Brooks Life Sciences (MA, USA), we delve further into cold chain process control in advanced therapies. This includes how the new wave of advanced therapies is challenged by the cold chain requirements and current distribution infrastructure.