RegMedNet eBook – raw materials for CAR-T production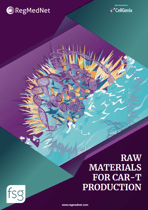 Download highlights from our latest eBook when you complete the form below.
In this eBook, we take a look at what recent advancements have been made for CAR-T
therapies, including different strategies that could help overcome various manufacturing
obstacles. We also explore how the use of serum-free media has gained traction, especially when considering commercial-scale manufacturing.
Contents include:
[INTERVIEW] A closer look into serum-free media: 60 seconds with Ulla Schultz
[APPLICATION NOTE] Highly efficient T cell manufacturing process with reduced handling steps using CellGenix

®

reagents in the G-Rex

®

system
[OPINION] Why it's important to avoid the use of serum in your CAR-T manufacturing process
[INFOGRAPHIC] How different parameters influence your final CAR-T cell product
[SPECIAL REPORT] Engineering chimeric antigen receptor-natural killer cells for cancer immunotherapy
[INFOGRAPHIC] How to choose the best T-cell medium for your CAR-T cell manufacturing process
[REVIEW] Chimeric antigen receptor T cells immunotherapy: challenges and opportunities in hematological malignancies
[REVIEW] Implications of T cell receptor biology on the development of new T cell therapies for cancer