RegMedNet In Focus – cellular starting materials for cell therapies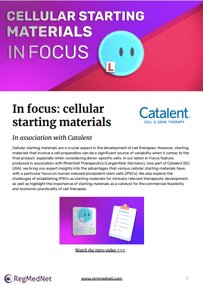 Download highlights from our latest In Focus feature when you complete the form below.
Cellular starting materials are a crucial aspect in the development of cell therapies. However, starting materials that involve a cell preparation can be a significant source of variability when it comes to the final product, especially when considering donor-specific cells.
In our latest In Focus feature, produced in association with RheinCell Therapeutics (Langenfeld, Germany), now Catalent (NJ, USA), we bring you expert insights into the advantages that various cellular starting materials have, with a particular focus on human induced pluripotent stem cells (iPSCs).