RegMedNet In Focus - cryopreservation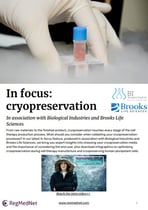 Download highlights from our latest In Focus feature when you complete the form below.
From raw materials to the finished product, cryopreservation touches every stage of the cell therapy production process. What should you consider when validating your cryopreservation processes?
In our latest In focus feature, produced in association with Biological Industries and Brooks Life Sciences, we bring you expert insights into choosing your cryopreservation media and the importance of considering the end user, plus download infographics on optimizing cryopreservation during cell therapy manufacture and cryopreserving human pluripotent cells.